OI!
Vamos Continuar com Nosso Especial?
Em 2013,quando o ANIME estava começando,a Marvelous lançou Shinovi Versus,o Jogo que seria focado apenas em Hack'n'Slash no Estilo Musou e seria lançado primeiramente para o Portátil Playstation VITA da Sony e mais tarde para Microsoft em PC via Steam.Desta vez Muitas Novidades Foram Adicionadas como 10 Novas Garotas totalizando 20 Personagens Jogáveis e 2 por Conteúdo Adicional que eram Daidouji e Rin somando 22 Personagens e uma Nova História e Mecânicas Novas.
A Trama de Shinovi Versus se centraliza em um Evento chamado de "A Grande Batalha Real dos Ninjas" onde Ninjas de várias Escolas se confrontam para saber qual será o Academia Definitiva,onde a perdedora será queimada pela equipe vencedora.Vendo que seria um Risco Perder,Asuka decide entrar nesse Torneio para Salvar a Academia Hanzo e tentar acabar com isso.
Aqui Temos 2 novos Grupos de Garotas que basicamente estão ligadas a Esse Evento,mas com propósitos únicos - As Garotas da Gessen e da Nova Hebijo.
A Gessen é uma Academia que tem como Objetivo eliminar toda a Maldade existente no Mundo pois seu Mentor que é um antigo amigo de Hanzo nos tempos do Japão Feudal,Acreditava que se livrasse o Mundo da Maldade que havia,o mundo seria um lugar perfeito e mesmo Hanzo dizendo que era errado,ele decidiu fazer assim mesmo e com isso cria uma Academia para abrigar pessoas que perderam entes queridos pela Maldade do mundo.
A Líder da Gessen é Yumi,uma Ninja que perdeu seus pais para Ninjas do Mal quando criança e agora busca vingança seguindo o desejo de seu mentor através da Justiça.Ela é uma Ótima Personagem q leva tempo para domina-lá por ter movimentos de gelo q servem como curta e longa distância.
Murakumo,completamente é uma personagem que tbm passou por um trauma pesado ao perder seus pais para a maldade do mundo,com isso ela esconde seu rosto usando uma mascará e também ela tem algo relacionado com a família de Ikaruga e sua amizade com Yomi.Ela é a mais Complexa do Jogo por usar uma lança e uma faca e ainda especiais em que ela usa 3 Lobos como parte dos golpes.
Yozakura é filha de uma família de 7 Irmãos que após perderem seus pais,a jovem agiu como a mãe de seus irmãozinhos,mas seus irmãos foram tirados por ela não ter condições de cuidar de todos e assim se uniu a Gessen para poder ter uma chance de recuperar sua alegria.Seu estilo lembra da Katsuragi,porém ao invés de Sapatos,ela usa Luvas de Metal com Efeito de Impacto que podem ser carregados para causar mais dano.
Shiki[ou Siki] é uma jovem sedutora que adora Selfie de si mesma e brincar com suas amigas[principalmente Murakumo].Ela também passou pelo mesmo trauma quando sua mãe foi morta por um ninja do mal no passado que fingiu ser um amante,e após Shiki decidiu procurar por ele para se vingar,depois disso se uniu a Gessen para poder esquecer esse peso e se tornar uma garota alegre.igual a Ikaruga,Shiki tem uma capacidade de fazer combos com uso de sua Foiçe de Lâmina Dupla,e golpes com gás de cergueira e morcegos.
Minori tinha pais que a tratavam bem,até que ela perdeu eles para Ninjas do Mal que atacaram sua família,e assim acabou sozinha no mundo até ser acolhida pela Gessen e ganhou novas amigas.Minori tem um balde q usa como arma de curta distância,mas seus golpes são mais para comédia pois ela pode invocar tanto bolos quanto rosquinhas e até um peso de 500 Toneladas.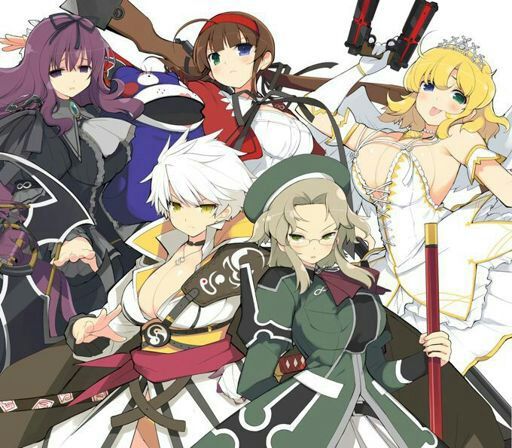 O Outro é a Nova Hebijo,que após os Eventos anteriores ocorridos na Expansão Burst,ele precisava ser renovado para se recuperar do que aconteceu com Orochi e Suzune[Rin] ficou responsável de Liderar a Nova Hebijo e assim novas garotas surgiram como a Nova equipe de Elite da Academia.Mas uma delas estava com ranceio pelo q Homura e suas amiga tinham feito.
Miyabi,a líder da Nova Hebijo passou por um trauma de infância terrível junto de sua irmã Imu,que foi a perda de sua mãe durante um evento que envolvia o Orochi e assim ficou abalada com a perda.Mais tarde durante os eventos do Burst,ela e Imu viram que Homura tinha feito e assim decidiram caçar ela para que ela pagasse pelo q fez a Hebijo,mas elas não sabiam q Dogen foi o verdadeiro responsável por isso.Como Nova Personagem da Hebijo,Miyabi é sinonimo de apelação pois tinha golpes com sua espada e poderes de trevas que deixam ela mais letal do q as demais,e seu Especial Máximo é um poder da qual ela tinha usado uma vez por ordem de seu pai e que seria uma quantia da metade do poder de Orochi.
Imu,amiga de Miyabi também testemunhou o que aconteceu com a Hebijo no passado e decidiu ajudar sua leal amiga de infância em tudo que ela quer.Seguindo o Estilo Artes-Marcias,Imu luta usando um bastão combinado a elementos Elétricos e que ela também ótima balança entre ataque e defesa.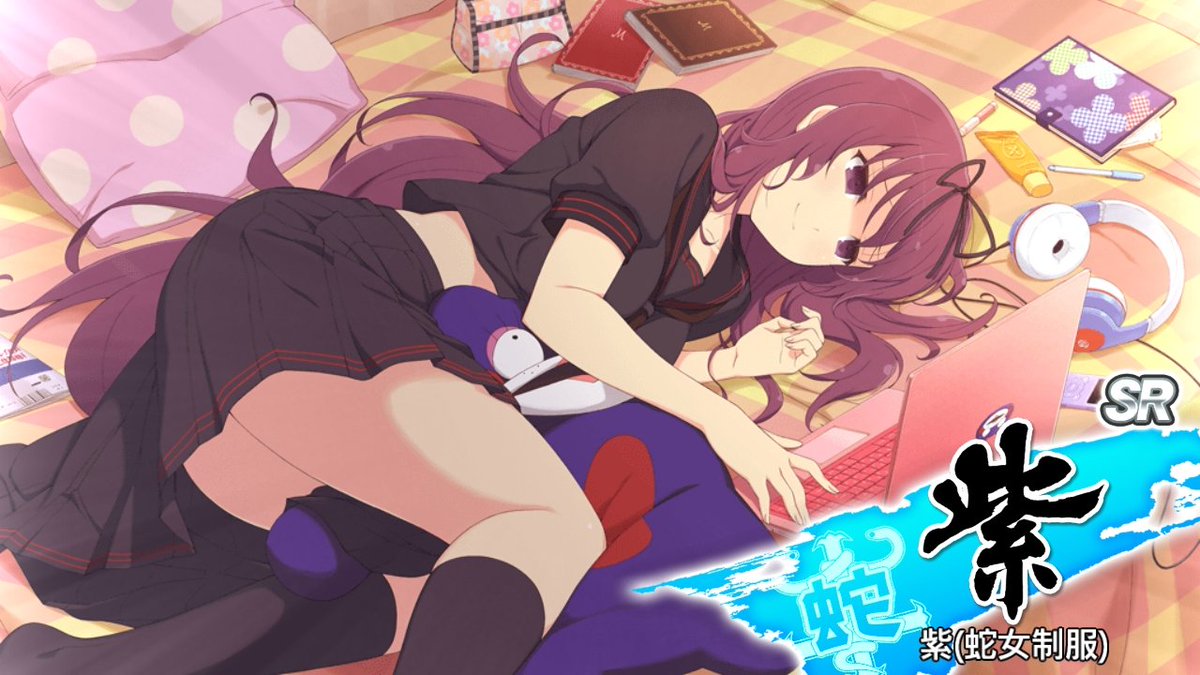 Murasaki é a irmã de Imu e Miyabi que basicamente não costuma sair de seu quarto ficando no computador pois no passado ela usou um poder assustador chamado "Root of Calamity",que deixava descontrolada e q acabou ferindo sua irmã Imu e assim ela não quer mais usá-lo.Diferente das demais,Murasaki usa suas Lâminas em seu cabelo como arma e golpes q usa o Root of Calamity,com nível de destruição avassalador.
Ryobi é uma garota forte e destemida da nova Hebijo,porém ela na vdd era da Gessen junto de sua irmã Ryona,mas a razão de estar na Hebijo era para se vingar de uma garota q matou sua irmã Ryoki no passado e assim ela e Ryona buscam vingança contra a responsável q descobrem era Miyabi.Assim como Mirai,Ryobi tem um rifle como arma com um machado acoplado próximo do gatilho,além de especiais q envolvem malarabarismo de Rifle com Bombas.
Completando o grupo temos Ryona,uma Ninja de pensamento pervetido e que gosta de ser tratada como brinquedo de castigo pela sua irmã Ryobi,e tbm mudou de Gessen para Hebijo como forma de encontrar a assassina de sua irmã Ryoki.Semelhante a Haruka,Ryona é bem alegre e masoquista e dança como bailarina usando pistolas acopladas e movimentos de gelo,se tornando uma personagem ótima para Chain Combos.
A Academia Hanzo basicamente não mudou nada em sua Gameplay,que ficou semelhante aos jogos anteriores...
Mas na trama durante os Eventos da Grande Batalha Ninja,podemos ver e ouvir mais sobre o Passado de Cada uma das Garotas da HANZO,um dos Exemplos é sobre o conflito de Ikaruga e Seu Irmão Murasame pelo direito de Herdarem da Espada Hien,da qual Ikaruga foi a escolhida.
Sobre o Gameplay ele mudou,agora era no Estilo Semelhante a série Musou da KOEI,onde lutamos contra Milhares de Inimigos pelo Cenário e podemos avançar de Nível a cada inimigo derrubado.Além disso adicionaram o modo multiplayer online para 4 Jogadores e Muitos Objetos para usar no cenário.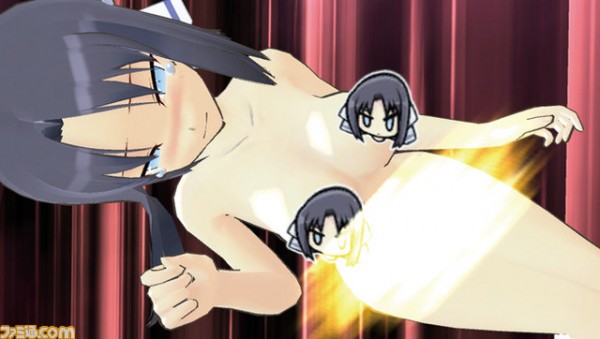 O Lado Fan-Service da Série permanece e desta vez era possível fazer um Costume Break Completo usando os Especiais de Nível 3 conhecidos como "Super Arte Ninja" podemos derrubar as Adversárias e assim ganham lindos elementos clássicos dos ANIMES Ecchi,mas claro que elementos como o Rostinho e a Luz Branca foram colocados para evitar.....err....bem....dores de cabeças para Marvelous.
Outra Novidade adicionada para o Jogo era o Modo Coração de Shinobi,Um Modo Extra Onde jogamos com todas as Garotas[Incluindo Rin e Daidouji] vendo as suas Histórias Particulares de 5 Capítulos tendo até momentos engraçados.
Além disso,como mencionado,as Ninjas Daidouji e Rin foram adicionadas a pedido dos Fãs,mas como DLCs pagas e assim se tornando as DLCs mais jogadas do jogo.
Com Isso,Senran Kagura Shinovi Versus arrecadou milhares de Ienes nas Vendas e virou um Imenso Sucesso! e assim acabou sendo um ótimo jogo trazendo muito conteúdo.
Nesse momento,muitos vão perguntar....O que Aconteceu entre Senran Kagura Burst e Shinovi Versus? Por que a Miyabi tem ódio por ela depois dos acontecimentos na Hebijo? E que razão Homura teve para fazer isso?
Isso tudo seria Respondido no Próximo jogo...
Senran Kagura 2 Deep Crimson foi Lançado em 2014 para Nintendo 3DS,sendo o Segundo Jogo para o portátil da Nintendo e que faz parte da Franquia.O Jogo traz 3 Histórias,a Primeira se passa Durante os Eventos do Primeiro e da Expansão Burst onde Asuka & Cia vão para recuperar os Pergaminhos da Arte Ninja Suprema roubados pela Hebijo,e assim elas lutam contra o grupo de Homura até saberem que tudo era Plano de Dogen para Invocar Orochi usando a Hebijo e a Hanzo como recipiente.
A Segunda História envolve Homura & Cia após o Confronto contra Orochi na Expansão Burst e assim elas Acabam se tornando ninjas Renegadas da Hebijo,com isso Homura batiza seu grupo de "As Garotas Escarlate" e começam a arranjar emprego para poderem sobreviver em uma caverna,até Rin as encontra-lás e pedir sua ajuda contra Dogen.Já a Terceira Parte Envolve 2 Garotas na Trama que estão ligadas aos Yomas,seres sobrenaturais que causam destruição no mundo.
Kagura e Naraku são 2 garotas que basicamente estavam sendo perseguidas pelos Yomas pois Kagura é uma Deusa da Destruição que a cada 100 Anos surge para exterminar os Yomas do Mundo,mas com uso de milhares de pessoas como sacrifício.Naraku é a Nova Guardiã de Kagura,e basicamente Luta com Bolas de Ferro amarradas nos Pés para golpes fortes.Kagura aparece como uma criança de 10 Anos,mas ao longo da trama ela consegue assumir sua Forma Suprema e Pode Causar grandes estragos com seus poderes de dobras de fendas. Esse Jogo Melhorou em todos os Aspectos - Gameplay,História e Conteúdo.Além de Rin e Daidouji voltarem como Secretas Jogáveis Liberáveis,também temos a Ultimate Asuka e Crimson Homura,as Formas Supremas de Asuka e Homura q são bem apelonas.
Com Isso,Deep Crimson foi uma Forma de Concluir a Saga de Senran Kagura no 3DS.
Mas Não ACABOU! A Franquia Tem mais por ai!

toniptv

Novato - O que é colecionismo?




Mensagens

: 308


Data de inscrição

: 15/08/2015


Idade

: 31



---
Permissão deste fórum:
Você
não pode
responder aos tópicos neste fórum